It was a success! I had SO looked forward to having people over and throwing our first official party. Billie invited some Army friends, and I invited some friends from work.
The menu included drinks, Mexican "meatza" and a taco bar. The taco bar included ground beef, crock pot chicken fajitas, crispy taco shells and soft tortilla wraps, lettuce, tomato, cheese, sour cream, guacamole, and chips. Our guests brought Mexican rice, mini Chimichangas, and apple empanadas for dessert. It was the perfect set-up for each person to personalize their plates.
For the chicken fajitas: mix 2 lbs of chicken breasts, 1 1/2 packets of fajita seasoning mix and sliced bell pepper and onion in the crock pot. Cook on low for 5-6 hours then shred with a fork. Super easy!
Click here
for our margarita recipe
....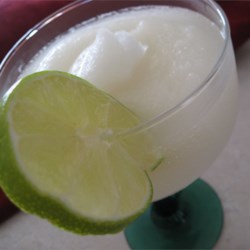 Click
HERE for our Mexican Meatza recipe
(Paleo approved!)
We ate and visited for a while and the played a few games of Catch-phrase... My FAVORITE GAME.
One of Billie's Army friends is from Tunisia. It was funny playing Catch-phrase with a non-native English speaker. :) He did great though. And he brought us a magnet from Tunisia... so sweet.
I'm so thankful for the friends we've made so far. Can't wait for the next party!